Dr. Kettler's awesome Parallax 3D wallpapers are what's missing from your Android home screen
6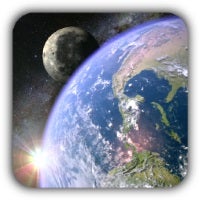 We don't usually put wallpapers on our smartphones, but when we do, we like them
in parallax 3D
. That's how we roll, but more importantly, that's how Dr. Alexander Kettler rolls. He's the creator of four stunning 3D parallax wallpapers for Android & iOS that we can't believe we've missed. They are that good, and are also free - as in free & ad-free. They do have $2 paid versions as well, but they differ in miscellaneous functionality and exist purely for satisfied users that want to support the developer. We felt it's time to give the doc's craft a well-deserved spotlight, so here we go. Praise the doc!
Autumn Leaves HD in Gyro 3D Parallax
Got that autumn spirit already? This wallpaper shows an animated 3D scene of falling leaves and uses the gyroscope or accelerometer to give a very convincing impression of 3D depth. The texture and rendering work are amazing. You can also arrange the view by combining different types of leaves with autumn backgrounds. Gorgeous stuff! As we mentioned, the free version is free with no ads, and the paid version has a few more backgrounds and leaves to "personalize" your autumn.
Download:
Free
|
Paid
Cracked Screen 3D Parallax HD Live Wallpaper
This one, the doc made to showcase his geek credentials. It's theme is about discovering what's underneath your device's screen. It gives out an illusion of a broken screen which reveals the electronics and circuitry. As if the wallpaper couldn't get any cooler, the electronics output actual values from your device, such as CPU and RAM usage, network activity, and battery level. The paid extras are the ability to break the screen in places where you touch it, zoom, and move around the glass cracks and electronics. Pure parallax mayhem!
Download:
Free
|
Paid
Earth Live Wallpaper with 3D parallax effect
If you are on the hunt for a proper space wallpaper, look no further than the doctor's. It shows the Earth, Moon and stars as seen from space with beautiful detailed textures and plenty of depth. There isn't much to be explained here, really. If you gaze at the stars every night, that's the one wallpaper to have... unless you work in an observatory. Then you need no wallpaper. The paid version of this beauty lets you zoom and move freely with finger swipes, control the rotation speed of the Earth, and adjust the distance and phase of the moon. Just like playing God.
Download:
Free
|
Paid
Spring Flowers 3D Parallax HD Live Wallpaper
The doctor's second seasonal wallpaper is a merry springtime one. Cherry blossoms float to the ground and grow again. You can use five built-in beautiful background images, or use your own. Then, you can watch the whole composition in parallax 3D as you shift and tilt your device. The paid version has two more flowers, two more branches, and two additional effects - blur and tilt-shift. You can also adjust the brightness, contrast, and saturation to make the picture darker or lighter. Good stuff!
Download:
Free
|
Paid
Parallax Nature: Summer Day
Finally, this one shows a serene 3D scene of a summer day at the lake. It's one of Kettler's earlier works, but it's still a joy for the eye with its lush green landscape and flowing river. To leave your personal touch on it, you can replace the included painting with an image of your choice. The paid version has "nice butterflies, a very romantic night scene, and 3 different camera views".