Downloads vs installs: how Apple and Google count app numbers
16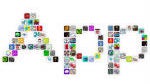 Yesterday was a big day of news, more for Google than Apple, but Apple did get in one interesting piece of information. Just a few hours after Google had announced that the Google Play Store had reached
48 billion app downloads
, Apple announced that its iTunes App Store had reached the
50 billion app
marker. At the time, we noted that it was unclear how each company counts app installs, so we weren't totally sure how to compare the numbers, but now we have that answer.
It turns out that both companies count app installs the exact same way.
Both Apple and Google count only unique downloads of apps per user account
. This means that if an app is universal, it is only counted once, no matter how many different devices you may install it on, as long as all of the devices are using the same account. Neither company counts pre-installed apps, so Google Maps, Talk, etc don't count, but iBooks does count because that is an optional install.
When we first reported Apple's announcement yesterday, we noted that the iTunes App Store had a 4 month headstart on the then Android Market (now Google Play), not to mention the lag in time between when Android actually had enough user support to really be a factor in app installs. According to the counting method, we should also add in a caveat because iOS tends to have fewer universal apps, and more apps that are specific for iPhone or iPad, which would count as two downloads if the same user downloaded both. Although, that may not add up to much.
Either way, it's clear that Google Play is growing faster than the iTunes App Store, and based on Google's own numbers, it should pass the 50 billion app mark in less than one month. But Play still has a bit longer to go before catching up to the App Store in terms of revenue.