Does somebody out there know about a Zune phone?
4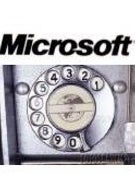 We know that Microsoft have said that they will not be getting into the business of manufacturing phones. But the word has it big news is expected next month. A Twitter poster has started a buzz by hinting at a possible Zune phone that would be announced in June. The post started by discussing the integration of Twitter and Facebook in Office 2010. Then it took off on a new direction. "New product launch, that's all I'm allowed to say. Hold off from buying an iPhone/Pre". The implication of the post is obviously about a possible Zune phone and after all, we
reported
that the prestigious Wall Street Journal had written a story that Microsoft and Verizon were in talks to develop their own "iPhone Killer". It could be that there is nothing to the Twitter post and that Microsoft is announcing an HD version of their music player. On the other hand, if there is going to be a Zune phone, somebody has to know about it and who is to say that they wouldn't pass along a little tidbit of information in advance?
source:
Twitter
via
EngadgetMobile