Documentary explores how kids get addicted to their smartphones
13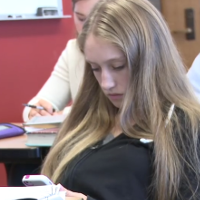 More than two-thirds of teenagers own a smartphone, and 37% of them own a tablet. This leads to a large number of teens becoming addicted to their handsets. A documentary,
Screenagers,
explores this issue. According to Common Sense Media, only 3% of kids' screen time is devoted to creating something. The vast majority of screen time is used to listen to music, watch video, read or post over social media, and play games.
The documentary was directed by Delaney Ruston, a physician by trade. With a daughter who was always checking out social media, and a son who hid behind video games, Ruston was getting mad at her kids, but also felt guilty for having this anger. Including the television screen, smartphone and tablet, kids spend an average of 6.5 hours a day watching a screen for non-school activities.
Director Ruston says that anything that forces kids to look at each other can help break their screen addiction. What is not a good idea according to one teacher, is taking kids' phones away from them during school hours. This teacher says that kids are going to grow up facing digital distractions, so they need to learn how to deal with it now. Ruston says, "This is the parenting issue of our time. Tech on its own isn't bad, but it's bad when it's out of balance."
If you're interested in viewing the documentary, click on the sourcelink to find a screening of it near you. You can also view the official trailer by clicking on the video below.
source:
Screenagers
via
Forbes