Do you want the Patent War to end?
63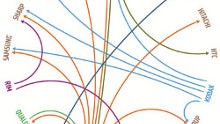 Nowadays, it's starting to get more of a norm for companies to sue themselves over various patent infringements; some reasonable, others not so much. The questions is, what number of those cases we'd consider reasonable and needed. We've already expressed our predominantly negative stance towards the Patent War that happens to be waged with full force now, but we've also been having this little feeling inside telling us that most of you aren't quite happy with what's going on as well. That's why we though it would be interesting to ask you to express your opinion on the matter with your votes.
Do you feel that the Patent War needs to end, or rather, are convinced that there's much sense in it? Will it stimulate innovation by forcing companies to think of their own approaches to certain problems, or will it actually harm innovation by forcing companies to spend too much resources on pointless lawsuits?