Do not update the Microsoft Lumia 550 to this Windows 10 Mobile preview build
8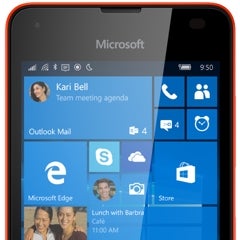 Do you own the
Microsoft Lumia 550
? If you do, better pay attention to what we are about to tell you. Because of a bug found on Windows 10 Mobile preview Build 14267, Microsoft is asking those in the Windows Insider preview program not to install that build on the Lumia 550. The bug prevents the phone from charging or making a connection using the USB port.
Microsoft executive Gabriel Aul suggests that those who already have updated the Lumia 550 to preview Build 14267 and are experiencing these issues, to roll back to Build 10586. To do that, sync the phone to your PC by using the USB port. Open the Windows Device Recovery Tool, and choose "My device was not detected." Once that is done, tap on Lumia and reboot your handset. The Windows Device Recovery tool will detect your phone and re-install Build 10586.
As we said, Build 14267 has a bug that needs to be exterminated before you can install it on the Lumia 550; once it is cleared to be installed, the update will add a music search icon on the upper right of the Cortana screen. If you want to know the name of a song that is playing, open Cortana and tap the icon. The virtual voice activated personal assistant will reveal the name of the song and the artist.
With Build 14267, Microsoft has enabled Word Flow for the address bar on the Microsoft Edge browser. In addition, the update makes it easier to open InPrivate tabs on Microsoft Edge. Right next to the new tabs icon, you will find the button to press when you want to open a private browsing session. And a prompt in Edge will let you know when a download is starting, allowing you to cancel one that has started by accident. Photos can be added to Skype messages by tapping on the paperclip icon on the lower left of the screen, while composing a message to a contact. Or, the camera app can snap a photo that will attach to your Skype message.
"Several Windows Insiders with a Lumia 550 have reported an issue where their phone no longer charges or connects via USB after upgrading (sic) to Build 14267. If you have a Lumia 550, we recommend holding off going to this build. If you have hit this issue we recommend rolling back to Build 10586 using the Windows Device Recovery Tool...If you need to download the image, your phone may reboot back into the OS, once the image finishing downloading completely – reboot your phone again and it should begin reinstalling Windows 10 Mobile. If your Lumia 550 is really low on battery, switch your phone into flashing mode by turning your phone off first and press power button and then volume up until you see a lightning bolt on your phone's screen. This will allow your Lumia 550 to charge. You should let it charge a bit before using the Windows Device Recovery Tool to roll back to Build 10586."-Gabe Aul Corporate VP, Engineering Systems Team, Microsoft
Unfortunately, all of these changes are going to have to wait if you're rocking the Lumia 550. If you haven't yet installed Build 14267 on that model, wait for the all-clear sign from Microsoft. If you already installed the update, use Aul's workaround to get back to Build 10586. Time heals all wounds, and eventually Build 14267 will be cleared for takeoff.
source:
WindowsCentral