Do all Google Pixels have an audio issue at high volume levels? (VIDEO)
44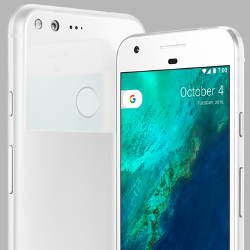 According to a post by a Reddit poster named "Badmark," he has had 4
Google Pixel XL
handsets (including 3 replacement units) because of an audio issue that he claims affects every Pixel model including his Wife's
Google Pixel
. At the three highest levels of volume, the phones produce a "static distortion," he says. Other Pixel and Pixel XL owners are experiencing the same things. Many don't notice at first, but when they watch a trailer for the new "
The Mummy
" movie at full volume, the distortion becomes apparent.
For example, another Reddit poster with the handle "abattleofone" says that he never noticed any serious crackling until he played The Mummy trailer at maximum volume levels. One Pixel XL user said that he could replicate the distortion at any setting above 80% of maximum volume.
If you're thinking that a software update sounds like the perfect solution, we concur. When it might arrive, we don't know. The problem is that Google has yet to admit that there is a problem with the phones. If you're having a similar issue, let us hear all about it by leaving your comments in the box below. If you haven't experienced the distortion, we have included the trailer to The Mummy that seems to make the problem easy to discover. Make sure that the volume on the handset is at high levels when you view the trailer on the phone.
We also have a video from the original Reddit poster, whose real moniker is Mark Buckman. The clip clearly shows the problem with the speaker which appears while the
Perfect Piano
app is being used on three different units (Two Pixel XL units and one Pixel). Running the app on another phone (the
Nexus 6
) at the same volume level does not replicate the problem.
If you own a Pixel or Pixel XL, we suggest hopping into your car, driving to the nearest shopping mall, and waiting in line to see Santa. Ask him for a fix for the audio bug on your Pixel, and perhaps the elves at Mountain View will make your holiday wish come true shortly.
source:
Reddit
,
MarkBuckman
,
UniversalPictures