Did you know what was the first smartphone virus and what it could do?
26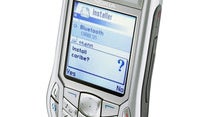 As you probably know already, smartphone viruses are an existing threat. Sure, you won't get one if you're careful with what you download and where you download it from, yet the chance of a smartphone becoming infected is still there. A small fraction of users do get a virus at some point, and that exposes their sensitive information at a grave risk. For example, a
recent malware strain called Simplocker
could freeze the files on a user's microSD card and would demand a ransom if the user wanted them to be unlocked. But how did it all start anyway? Since when have smartphone viruses existed?
Well, the first smartphone virus, called Cabir, was documented in 2004. Technically, it wasn't the first piece of malware to target mobile devices – Palm OS-based PDA's had their security holes as well – but it was the first to affect smartphones specifically. In particular, it could infect Symbian S60 smartphones, such as the
Nokia N-Gage
,
Nokia 6600
and
Nokia 6630
. (Remember these?)
But although it was still a virus, Cabir was a pretty harmless piece of code. When installed, it would display the message "Caribe" on the host's screen and start scanning for nearby Bluetooth-enabled smartphones. Then it would attempt to spread by sending itself in the form of Caribe.SIS, a Symbian application archive. At worst, it could drain a phone's battery faster by keeping the Bluetooth radio busy. It couldn't crash the phone, steal information, or anything like that.
So yeah, Cabir didn't exactly wreak havoc (as some other viruses surely can), but it served as proof that smartphones weren't immune to malware attacks. It paved the way for meaner Cabir variants to emerge, including ones that could disable the user's access to the Bluetooth settings and that could spread via MMS. Later came threats like the Skulls virus, which rendered a phone useless except for making calls, and Fontal, which could lock the infected smartphone.
Having said all that, let us remind you that you should always install apps from official sources and always avoid software that looks suspicious. For more tips and tricks on protecting yourself from threats, here's our
guide on smartphone virus security
.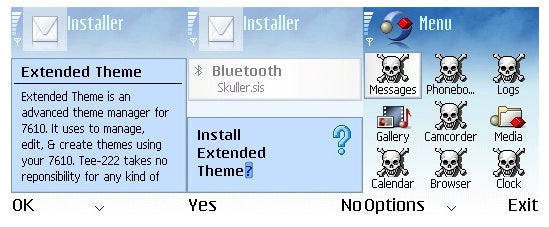 A variant of the Skulls virus in action

references: Kaspersky, Securelist