Did you know that Samsung launched the first solar-powered cell phone?
17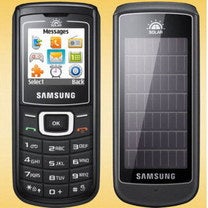 There are well over a thousand models in Samsung's cell phone portfolio, ranging from basic handsets and pocket-friendly feature phones to top-of-the-line Galaxy smartphones. The phones we're highlighting today are far from smart, yet we do think their uniqueness makes them worthy of a spot under the sun... quite literally.
In 2009, Samsung released the world's first solar-powered cell phone. It was known as the Samsung Guru E1107 and featured a solar cell built into its back plate. When exposed to sunlight, the cell generated electricity which in turn recharged the phone's battery. The small solar cell could not provide a lot of power, however. To generate the charge needed for a 5- to 10-minute voice call, the phone had to absorb an hour's worth of solar energy. Still, the solar charging feature made sense given the markets the phone was aimed at. The handset was designed for consumers living in developing markets and areas where power outages were a frequent occurrence.
Should Samsung give solar energy another try in its next batch of smartphones, or should people go for a dedicated
solar charger
instead? Let us know in the comments!