Off the grid: 10 awesome solar chargers for smartphones and tablets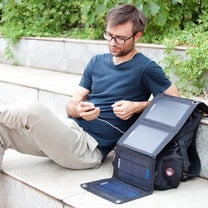 Raise your hand if you've ever been stuck with a dead cell phone and no charger for it within a 10-mile radius. Okay, chances are you've never been in such a situation, but in case you were, we know what could have helped you get your handset up and running – a solar-powered charger with a convenient USB output.
Yes, solar-powered chargers for smartphones and tablets exist and come in a broad range of sizes. In the slideshow below, you'll find 10 such chargers, made to provide the vital 5 volts of USB output at any place illuminated by the sun's rays.