Did you know about these 7 cool Google Now Easter eggs?
15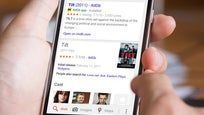 Easter eggs in software have been around for decades, and there's no indication that the practice would ever be abandoned. In fact, inside jokes and secret tricks are present in software that you might not be expecting to have any, such as your computer's OS and the code running on your smartphone. In Android, for example, if you go to Settings > About and tap several times on the Android version, you'll trigger an Easter egg. Feel free to try it! This is far from the only secret encoded in Android, however. There's a whole bunch of Easter eggs hidden in Google Now, and you can try them by saying "OK, Google..." followed by one of these commands:
"Do a barrel roll."

– this will cause the entire search results page to rotate a full 360 degrees

"Askew"

or

"Tilt"

– search results will be tilted slightly to the right

"Up up down down left right left right"

– the Konami code gives you "free unlimited Google searches"

"Make me a sandwich."

– this one will trigger the following response: "Poof! You're a sandwich."

"Beam me up, Scotty!"

– a reference to the classic Star Trek series, triggering this Easter egg is followed by the response "I cannot do that, captain. I do not have the power."

"When am I?"

– this one is a reference to the Doctor Who series. It will remind you that TARDIS technology has not been developed yet

"What is the answer to life, the universe and everything?"

– anyone familiar with Douglas Adams's The Hitchhiker's Guide to the Galaxy series should know what answer follows after this question
These aren't all of the Easter eggs found in Google's software, but are probably the geekiest ones of all. Now go ahead and show them to your buddies!