Did you know? Nokia made smartphones with AMOLED screens before Samsung
32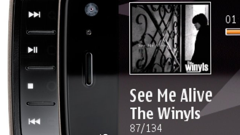 Samsung's smartphones are famous for many things, one of them being their AMOLED (or, in recent years, Super AMOLED) displays. Almost all of Samsung's high-end Android smartphones feature AMOLED screens, and, in fact, Samsung's been using this technology even before launching its first Android handsets. However, the world's first smartphone with an AMOLED display was not made by Samsung.
Announced in August 2008, and released in early October that year, the
Nokia N85
was the very first smartphone to sport an AMOLED screen (a 2.6-inch one with 240 x 320 pixels). The N85 was a Symbian-based dual-slider with advanced features - for its time - like HSDPA, Wi-Fi, and a 5 MP rear camera with auto focus and Carl Zeiss lens.
Samsung's first AMOLED smartphone - the
i7110
- was announced in late October 2008, but did not hit the market until February 2009. Just like Nokia's N85, the Samsung i7110 ran Symbian, and offered a 2.6-inch AMOLED screen with 240 x 320 pixels, though this was a candybar, not a slider.
It's worth noting that, in 2008, there were already plenty of phones with OLED (organic light-emitting diode) screens around. But AMOLED (active-matrix organic light-emitting diode) was introduced as a superior technology, improving things a lot by consuming less power, and offering faster response times. Sure enough, since the screens of both the Nokia N85 and Samsung i7110 were using early AMOLED technology, they performed rather poor in direct sunlight. Also, in case you were wondering, these were not touchscreen displays.
Do you remember which was your first smartphone to feature an AMOLED screen (assuming you had one, of course)? Let us know in the comments section!
Recommended Stories