Did Microsoft leak an image of the Surface Pro 5?
23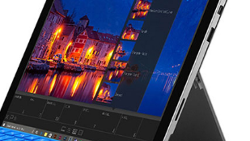 An image of what is claimed to be the Surface Pro 5 tablet has appeared on a French website allegedly belonging to Microsoft. We have no verification that the render titled "win10-feature-surface-pro-5-z" is actually that of the Surface Pro 5, and that the website it is embedded on is actually an official Microsoft press page for French speaking regions. The image shows the next-gen Surface Pro slate wearing a Type Cover with the Surface Pen lying in front of the tablet.
Besides the image of the tablet, the Surface Pro 5 name appears on a LinkedIn profile of a Microsoft employee.Also mentioned is Neon. This is the code name given to a visual design language for Windows that will be employed across multiple platforms.
The
Surface Pro 4
was released on October 6, 2015. There is some speculation about an unveiling of the Surface Pro 5 in the March-April time frame meaning that it could end up being a year and a half between the introduction of the Surface Pro 4 and Surface Pro 5. In mobile years, that is at least twice that number. Still, we have to remember that we are talking about an expensive tablet here and the upgrade cycle is much longer than what you find for the average smartphone.
via
TheWinCentral