Developers have the Apple iPhone as their first preference, but overall prefer Android
54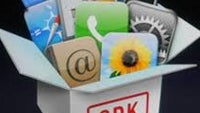 Developers still prefer the Apple iPhone and the smartphone version of Apple's mobile OS remains the first preference of mobile app writing code jockeys around the world. That is according to a survey conducted by research firm Forrester, who spoke with 765 software developers who write mobile apps. However, while more developers have the iPhone in mind to write for first, overall 84% of developers plan on making an Andriod phone version of their application as opposed to the 77% that have the iPhone in mind for their app.
The same results are seen with developers who are writing for tablets. More developers have the Apple iPad in mind as their first preference than other tablet platforms. But overall, more want to make sure they they have a version of their app on an Android slate than on the iPad. Interestingly, about the same percentage of developers that have an Android smartphone version of their app as their first preference also list Windows Phone as being their top choice. But Android is well ahead of Windows Phone when it comes to being the second, third, fourth and fifth priority.
In what has to be considered just horrible news for BlackBerry users and the company itself, more developers have Windows RT as their first preference to write for than those that have BlackBerry 10 as their first preference. Overall, those that write applications for mobile devices would rather write for Bada than for BlackBerry 10.
The fewer the number of developers interested in writing for a particular platform, the better the chance that an app store for that platform will be full of empty shelves instead of lined chock full of popular apps that help drive the sales of a device.

The Apple iPhone remains the first preference of mobile app developers
source:
Forrester
(subscription required) via
TechCrunch