Dell prepping a cannonball in the tablet pool
2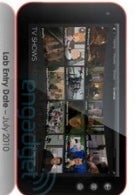 You didn't think Michael Dell will stay away from the next computing craze, did you? After the
intriguing 5" Dell Streak
, which had some identity problems if it is a tablet, or a big smartphone, Dell confirms it has much more in the works.
Dell's China CEO Amit Midha has outed some info on the upcoming
7" Android tablet
, which, he hinted, is mere weeks from being announced. A 10-incher is coming next in a 6-12 months timeframe, and some more sizes will appear in Dell's tablet ecosystem in the meantime. A 3" device will be announced closely after the 7" tablet, and a 4" is also expected.
Except Android, Dell is also toying around with Chrome OS, but one of the upcoming "inchers" will be a Windows device. We'd wager to say he is talking about that elusive Windows Phone 7 device
long rumored
from them. Bring it on, Dell, the more, the merrier.
source:
WSJ