Deal: spare batteries for the LG G3, G4, and V10 priced at just $15
11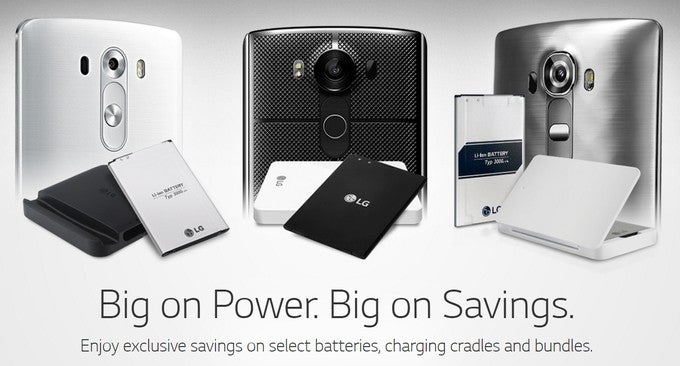 LG is now selling extra removable batteries for the
LG G3
,
LG G4
, and the
LG V10
at just $15 a piece. Usually, these batteries are priced at about $40, which makes this a really good offer if you're looking to increase the autonomy of your LG smartphone. Unfortunately, the discount does not apply to the
LG G5
's removable battery.
Although most premium smartphone manufacturers have abandoned the removable battery in favor of slimmer devices with metallic builds, LG's high-end smartphones have continued to offer the feature despite this raising trend. From the LG G3 to the LG V10 and even the new LG G5, the company's flagship smartphones all feature removable batteries.
Aside from spare batteries, LG is also discounting its charging cradles for last year's LG V10 and LG G4, offering them at just $15 each. If you fancy buying both a charging cradle and a spare battery, the two together are priced at just $20, which is a rather sweet deal. Unfortunately, however, it looks like the charging cradles appear out of stock for some customers.
LG is probably attempting to clear some stock through this promotion, but the company did not mention how long these discounts will be available. As such, you should probably head on over to the source link below and place an order if you're tempted to get an extra spare battery.
What do you guys make of this deal, is $15 a killer price for an extra battery or what?