Deal or no deal: four China Mobile websites relay information on the Apple iPhone or Apple iPad
4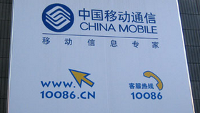 Is China Mobile taking orders, or about to start taking orders for the Apple iPhone? We have heard so many times
that the world's largest carrier is about to offer the iPhone
, only to find out that in each situation it was a false start. But a published report on Saturday points out that there are four China Mobile websites that seem to be taking orders for Apple's iconic smartphone, or preparing China Mobile customers for the arrival of the devices, even though neither Apple nor China Mobile have acknowledged this with a press release.
A rumored December 18th launch date has come and gone
without a peep from Apple or China Mobile.
Four out of twenty websites listed by China Mobile on its main web portal, have pictures or text relating to the Apple iPhone or Apple iPad. Earlier this month, we told you about one of the sites, which was for China Mobile Beijing. The site is apparently
accepting some type of pre-order for the latest iPhones
. A symbol on the top of the site, "立即预约" was translated in today's report as meaning "book now" or "immediate reservation". A counter on the web page reveals that over 75,000 pre-orders or reservations have been taken.
Another site, this one for China Mobile Guangdong, contains a survey which is trying to determine customer's "willingness to buy" the Apple iPhone. This site asks if you would buy the iPhone and if you would want to receive information about the device via text or phone call. The China Mobile Zhejiang site is taking orders for the
Apple iPhone 5s
. The web page indicates that customers will be alerted when the phone arrives, although no delivery date was listed. Orders are being taken until December 31st. Lastly, a site for China Mobile Fujian had text discussing the Apple iPad mini and also contained various pictures of iPads.
The reason why striking a deal with China Mobile is so important for Apple can be seen in the latest figures which show that China Mobile has 763 million subscribers, up 8% over last year. 181 million of them enjoy a 3G connection, a figure that is up 120% year-over-year. Now that a 4G LTE signal is available, China Mobile has the potential to provide Apple with a surge in new orders for its mobile devices. Considering that this is a relationship that helps both sides, why can't the two companies let the inevitable happen, sign the contract, and move on?
source:
Forbes