Sprint rehashing the half-price iPhone X deal, use it for just $20 a month
10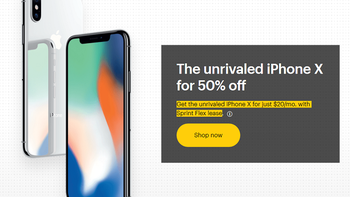 Back in March, when Sprint outed a 50% off deal for the
iPhone X
, it got in a bit of hot water with Consumer Watchdog - a market research company that is a vigilante for buyer's rights. They said that
the ad is a bit misleading
, as the discount was part of Sprint's lease program, meaning that you don't actually own the phone, but users didn't seem to care in the end, and most of the comments were that, since the mobile phone market is changing so rapidly these days, there is no point of owning a phone, rather than leasing it anyway.
Fast forward to today, and Sprint has bumped the offer again, so folks who are willing to lease the 64 GB
iPhone X
for 18 months with Sprint Flex can get it for just $20 per month and $0 down (instead of $41.76 per month). The deal requires a new line, but no trade in is needed. Keep in mind that leasing the phone means you have to return it to Sprint after 18 months unless you want to pay the difference to cover its full cost.
Still, $20 a month is nothing to peruse an iPhone X, conditioned only on the fact that you need to have good Sprint coverage where you live or travel. Also, if the
merger with T-Mobile
goes through, you might be on the receiving end of a better coverage, too, and a deeply discounted phone, albeit one that
might be discontinued
very soon.