Deal: dual-SIM Samsung Galaxy S7 priced at just $529 on eBay
7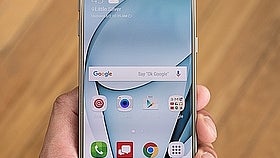 The international dual-SIM version of
Samsung Galaxy S7
in its unlocked flavour is currently priced at just $529 on eBay.
The Samsung Galaxy S7 may be the one of the hottest smartphones on the market, but all of that high-end mobile technology comes at a steep price. AT&T and T-Mobile price the Samsung Galaxy S7 just shy of $700, which is why many resort to unofficial sources such as eBay to get the handset at prices below the market average.
Most of you probably know what the Samsung Galaxy S7 is capable of, but just in case you need a refresher, the brute specs include a 5.1-inch Super AMOLED display running at a resolution of 1440 by 2560 pixels (QHD), a 12MP primary camera that has earned its salt in our blind test comparisons, 32GB of integrated storage space and 4GB of RAM.
The US versions of the Galaxy S7 are equipped with a Qualcomm Snapdragon 820 chipset. Since this deal is for an international version of the Galaxy S7, however, the handset comes with a Samsung Exynos 8890 chipset, which some tests gave found to be slightly faster and more energy efficient. Note that this deal is for an unlocked handset compatible with GSM carriers such as T-Mobile and AT&T. If you're on either Verizon or Sprint, then this isn't for you.
Unfortunately, the international version of the Galaxy S7 doesn't feature Samsung Pay support out of the box. That is not necessary a deal breaker, but it is a detail that you should take into consideration before placing a purchase. For a much more detailed analysis of Samsung's newest flagship, head on over to the full
Samsung Galaxy S7 review
.
What do you guys think of this deal? Is the Samsung Galaxy S7 worth $529 in your opinion?