Deal alert: Samsung's PRO tablet series discounted with $50-$100
13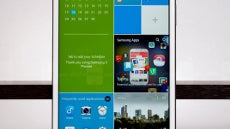 Samsung's
Tab PRO and Note PRO slates
are the poster kids for the finest that the Android tablet industry cam muster, given their specs and screen resolution. There is something for everybody here - from the record tablet pixel density of the
Tab PRO 8.4
, to the S Pen stylus shenanigans brought on to the huge canvas of the 12.2" Note PRO. Unfortunately, prime specs came with prime price tags when Samsung introduced the suite, but the tide is starting to turn now.
Amazon just discounted the PRO tablet line of Samsung heavily, with $50-$100, depending on the model. The smallest Galaxy Tab PRO 8.4 has been cut to $349.99, down from $399.99, making it a pretty good deal for such a slim and light tablet, which on top of that has a 2560x1600 pixels display with
a standard stripe RGB pixel matrix
. The
Galaxy Tab Pro 10.1
has been discounted by $70 to $429.99, the plain 12-incher
Tab PRO 12.2
is now $549.99, for a $100 off, and the most expensive of the bunch, the
NotePRO
, received the same discount, reaching a $649.99 tag. In addition, the
Note 10.1
has also been discounted by $70, going at $479.99 for the 16 GB unit, and $529.99 for the 32 GB version.
Recommended Stories