Deal alert: Nokia Lumia 928 free on Verizon website with 2-year agreement
12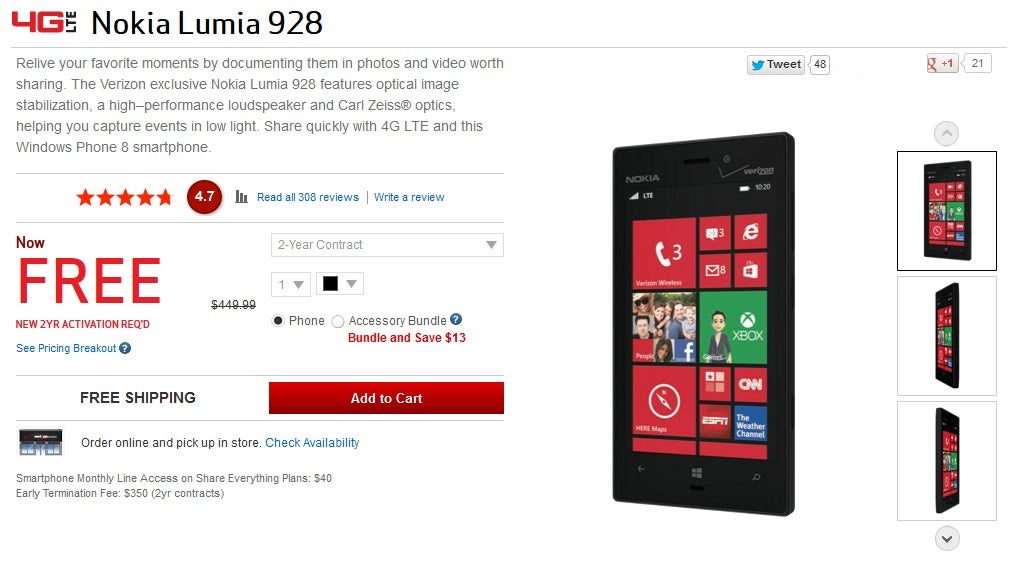 Likely in an effort to make the Windows Phone flagship on Big Red look extra appealing to folks getting ready to go back to school, Verizon has cut the price to zero as long as you are willing to sign the customary two-year agreement.
The
Nokia Lumia 928
is a steal at this price and well worth considering. One great part of the deal is that you obviously get
Verizon's network
which just about has 100% LTE coverage now, plus you get the experience of Windows Phone.
The better part of the whole bargain is all the
Nokia experience applications
that the Lumia devices have. HERE Drive, City Lens, HERE Maps, Nokia Music, and the list goes on. The timing is good too because the GDR2 update is in the process of rolling out, and there are two more updates planned for Windows Phone in the foreseeable future, GDR3 and an update to coincide with Windows 8.1, aka Windows Blue.
Then there is the best part of the deal with Lumia 928,
the camera.
The Lumia 928 is sporting ZEISS optics, and PureView technology along with optical image stabilization. Taken together, the 8.7MP camera
is one of the best in the business.
If you like taking a lot of pictures, the Lumia 928 is a no brainer. Granted it is not packing the monster 41MP sensor that the Lumia 1020 has, but that is where people must take into account network performance and coverage for where they live and travel.
This promotion makes the Lumia 928 a
compelling buy versus
any of the other
flagship models out there
. It has also earned consistently high ratings in the media and amongst Verizon customers.
Read up on our review of the Lumia 928
and then get it while you can.
Thanks "hi-top" for the heads-up!
source:
Verizon Wireless