Deal alert: HSN drops the price of the Nokia Lumia 521 to just $99.95 SIM free - good till 11:59PM EST
13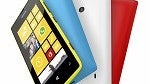 The Nokia Lumia 521 and its global twin, the
Lumia 520
, are a hit no doubt about it. Repeatedly the pocketbook friendly Windows Phone has sold out through just about every major retailer, from the Home Shopping Network (HSN) to WalMart.
Now HSN has its daily special running and is offering the Lumia 521, brand new and contract free for
just $99.95
. Even better,
if you are a first time HSN customer, use promo code 135235 during checkout to save an additional $20, making this a

$79.95 purchase

.
We don't know about you, but that seems like a no brainer. If you were thinking of buying a device at retail and were prepared to spend a few hundred dollars in the process, maybe check this little bundle of joy out and
see what else you can get with a wad of cash you have left over
.
Click on the HSN source link to get in on the deal.
The special expires at midnight tonight
(eastern).
source:
HSN
via
WPCentral
UPDATE

:
We are finding out that the promo code may no longer be working or is not valid with this purchase. Let us know if it works for you. New customers are given the option to save 15% at the beginning of the check-out process if they agree to receive emailed specials from HSN, so it is not a total loss.
UPDATE 2

: It looks like the 15% discount offer does not apply to this sale. We tried to help you find every corner to cut. If you find a new one, share in the comments below. Still, at $99, this is a heck of a deal.
FINAL UPDATE

: This deal ended Saturday evening, so if you missed it and only read it today, unfortunately, you are too late. When there was about 7 hours left in the sale, HSN had sold over 17,000 Lumia 521 devices. What the final tally was, we are not sure, but it is perfectly feasible that the sale saw at least 20,000, probably closer to 25,000 units ordered.