You can still buy Verizon's Wear24 smartwatch for just $49.99
3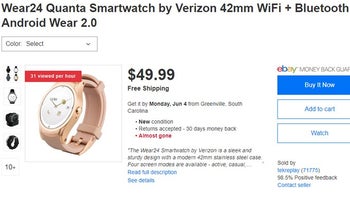 Verizon discontinued the Wear24 smartwatch
only four months after it made its debut in the United States, but that doesn't mean that you can't buy the wearable device from other sources. A few months after the US carrier announced it will stop selling the Wear24, the smartwatch
popped up on eBay
where it sold for $130 ($220 off).
Then,
the price dropped to just $79.99
, thus making the LTE-enabled smartwatch a killer deal for all those looking for such a device. Well, it looks like Wear24 does not want to die and a batch of units is now on sale on eBay for an even lower price.
eBay seller
tekreplay
offers the Wear24 smartwatch for just $49.99 and adds free shipping as well. The item is brand new, but it's only available in Gold (Black and Silver are out of stock).
Before buying the smartwatch, you should know that you can make and receive phone calls directly to and from the watch (with or without a smartphone), but only when using the
Wear24
as a standalone Verizon phone line.
However, all other smartwatch features such as notifications, voice commands, GPS and Play Store (on Wear 2.0) are fully functional from any connected iPhone or Android handset on all carriers.