Deal: Sony's Smartwatch 3 drops below the $150 mark
9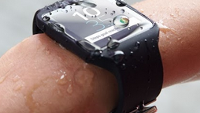 There's no question that the smartwatch has a long way to go in convincing us that it's more than a fad. The emerging product category of the wrist-worn computer was supposed to have been buoyed by the introduction of the Apple Watch. But
as Ray pointed out earlier
, that hasn't
really
happened. Rather than seeing such devices as a necessary portion of the digital diet, we find ourselves picking up a smartwatch for the sake of it, or out of intrigue. Or – as in this instance – because it's cheap enough for us not to say no. The Sony Smartwatch 3, which usually ranges between $250-$300 on Amazon, can currently be snapped up from under $150 – not a bad deal by anyone's reckoning.
A lot of Android Wear-running devices have dropped in price of late, including Motorola's
slick-looking Moto 360
. The Sony Smartwatch 3, which, like many of the company's smartphones, is waterproof, packs a 1.6-inch display, 4 GB of storage, and bundles GPS to boot. It does, of course, run on Android Wear, and additionally, offers the latest Android 5.1.1 following the recent update.
Thanks to Amazon, you can pick up the white model for $147.95, while the black version costs $170.11 and the lime variant $159.95. The fact that the darker configuration is still pricier is likely due to demand, with the less conspicuous color options seemingly favored by folk who don't want their watch to out them as a mega geek.
There's no telling when these savings will cease, so if you are interested in a device that can apparently
chug along for two days
without charge, do check the source.