Deal: Samsung's Gear VR headset is almost half price for a limited time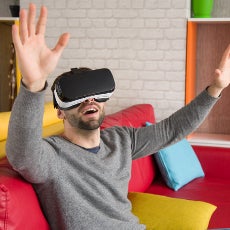 The world of virtual reality is gradually making its way to the mainstream, and as with most areas of emerging tech, Samsung has been among the early adopters with its lauded Gear VR. For a limited time, the usual $100 cost of the been discounted further at Amazon, allowing you to take your first steps into virtual reality for a mere $59.99.
As with smartwatches and other fledgling digital categories, you might have yet to take a peek into VR's largely uncharted realms. This stance is somewhat understandable; the technology has yet to reach maturity, so paying hundreds of dollars a time may seem a costly way to quell idle curiosity. Having said that, Sammy's Gear VR feels like the beginning of something great, and if you own a recent Samsung flagship (
Galaxy S6
,
S6 edge
,
S6 edge
+;
S7
,
S7 edge
;
Note 4
,
Note 5
), you could do worse than drop 60 bucks on some VR treatment.
It should be noted that the version in question is not the
Gear VR (2016)
— the recent model updated for the new Galaxy Note 7 — but the one before
as seen in our review
. If you have a vested interest in VR, then we'd definitely recommend snagging the latest version. But if you'd just like to see what all the fuss is about, head over to Amazon at the source for the discount.