Deal: Grab a new Samsung Galaxy S10 series phone for as low as $575 on eBay
2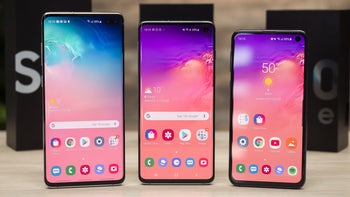 Samsung is doing everything it can to make the Galaxy S10 series as appealing as possible, and the best way to do that is to offer great deals on the entire lineup.
The most recent promotion
allowed those who would like to buy a Galaxy S10 the possibility to trade in their older phone and get up to $400 instead of just $300.
Many other US retailers are running deals on the Galaxy S10 series, so it's just a matter of timing if you really want to own one. However, if you didn't purchase one of Samsung's flagships yet, we have good news in the form of another great deal.
Ebay seller
never-msrp
has all three
Galaxy S10
models on sale for much lower prices than what you can currently find at Samsung. For example, the Samsung Galaxy S10e can be had for just $575, although the phone usually sells for $750.
Next, Samsung Galaxy S10 is available for purchase for just $670, exactly $230 off the MSRP. Last but not least, the $1000 Galaxy S10+ is on sale on eBay for only $760 outright. All phones come unlocked, but they are not compatible with CDMA networks like Sprint and Verizon.
One other thing that you should be aware of is that these are the international models, which come with Exynos, not Qualcomm chipsets. The good news is you'll be getting a North American AC adapter in the retail package, so you won't have to worry about that.