Deal: LG V30+ 128GB (US unlocked) is down to $774, save $155!
11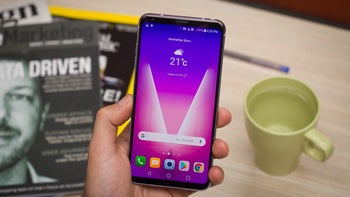 Product
Location
Item Condition
Price
Offer expires

LG V30+ 128GB US Unlocked

(Black, Silver)

B&H Photo and Video

New
$774.99 ($929.99); $155/17% off

N/A
If you are waiting for the right time to buy the
LG V30+
, you'll be happy to know that B&H has the handset on sale. LG's finest 2017 phone typically retails for $929.99, but right now, you can get it for $774.99. That's a discount of $155 or 17%.
Keep in mind that these are US unlocked units that can have LTE on all GSM and CDMA networks, meaning that they are pretty much compatible with every major Stateside carrier. Another cool perk is that you can extend the warranty of this phone to two years. The price of this particular model has also been cut to $774.99 on Amazon today, but the e-commerce site doesn't have the product in stock at the time of writing.
There are two major differences between the V30+ and the regular V30 - the Plus model offers 128GB of internal storage, twice as much as the regular model. Also, you do get a pair of LG QuadPlay Headphones with the V30+. Otherwise, the main specs of the two phones are identical - you get a beautiful 6-inch OLED screen, the Snapdragon 835 SoC, 4GB RAM, 16MP + 13MP main dual camera, and a 3,300 mAh battery.
If you want to get the full scoop on LG's latest and greatest, feel free to check out our
written review
for the phone. If this deal intrigues you, make sure to follow the above link to B&H.