Deal: Cricket is currently selling Microsoft's Lumia 650 and Lumia 640 at discounted prices
12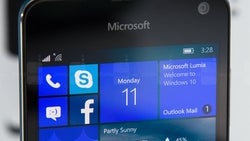 If you're looking for a budget Windows 10 Mobile smartphone that can breeze through basic tasks without breaking the bank, Cricket Wireless currently has both the
Microsoft Lumia 650
and the older
Microsoft Lumia 640
available at promotional prices.
The Microsoft Lumia 650, the entry-level Windows 10 Mobile smartphone that Microsoft sells for a cent under $200, is now available from Cricket at $119.99. Since Cricket is a prepaid carrier, you won't be tied to a carrier agreement, although you won't be able to use the handset on other networks.
The Lumia 650 features hardware specs that include a 5-inch AMOLED panel running at 720 by 1280 pixels, an entry-level Qualcomm Snapdragon 212 chipset with a quad-core processor paired with 1GB of RAM, 16GB of microSD-expandable integrated storage, an LTE radio, an 8MP primary camera, and a 5MP secondary sensor on the front. All of this hardware is powered up by a 2000mAh battery.
Overall, the Microsoft Lumia 650 offers a solid build, a good display, as well as a decent camera. That's more than we can say about most other smartphones in its price range. However, as mentioned in our detailed
Microsoft Lumia 650 review
, the handset also comes with its fair share of drawbacks.
The Lumia 640, which was Microsoft's budget-minded Windows Phone 8.1 handset can be had from Cricket at just $29.99 for new activations, or at just $9.99 if you're switching from another carrier.
The Lumia 640 comes with hardware specs such as a 5-inch display running at 720 by 1280 pixels, a Qualcomm Snapdragon 400 chipset with a quad-core processor and 1GB of RAM, 8GB of expandable internal storage, an 8MP primary camera, a 1MP selfie camera on the front and a 2500mAh battery.
The Microsoft Lumia 640 can be updated to Windows 10 Mobile, or you can keep using the Windows Phone 8.1 OS, which is installed out of the box.
Overall, the specs of the Microsoft Lumia 640 are fairly unimpressive, but the handset makes for a great backup device. You can't really ask for more smartphone at a price of $29.99.
What do you guys think of Cricket's deals on the Lumia 640 and 650?
Recommended Stories