Deal: 200 GB SanDisk microSD card is down to its lowest price for today only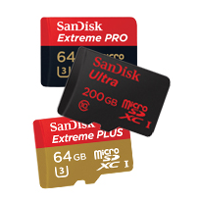 If your mobile device is in need of some additional on-board storage space, SanDisk's 200 GB microSD card is once again up for grabs at a discounted rate. 200 gigs will cover you for a
helluva
lot of movies, apps, games, music and photos, and should keep those nagging 'storage full' warnings at bay. For now, the price of SanDisk's popular 200 GB microSD is down to $58.99 on Amazon -- equalling the lowest price we've seen for it.
Apple and Google-branded hardware generally doesn't offer a microSD slot, and it's unlikely that the iPhone or new
Pixel
series will oblige any time soon. Most other purveyors of top-end gadgets do offer expandable storage, though, and 200 gigabytes is going to tide most people over for a considerable length of time.
The deal on the SanDisk Ultra 200 GB microSD (SDSDQUAN-200G-G4A) is only good for today, October 17th. It's a solid $15 saving on the usual price, so be sure to move quickly if you feel like your phone or tablet could use some extra legroom.
If you'd just like a new microSD and think 200 GB is overkill, other capacities are also available at lower-than-usual price points. The 32 GB model costs $10.59, the 64 GB variant can be had for $15.95, while 128 GB can be had for a mere $32.99.