Data problems affecting HTC EVO 4G
5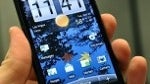 Sometimes even the biggest beast of a handset runs into some technical difficulties. Right now, owners of the HTC EVO 4G, specifically those living in Chicago, Ohio, Tennessee and Michigan, are having problems using the browser on the 3G or 4G data networks. Rebooting does not fix the problem, and hopefully you aren't so frustrated as to see if throwing it at the wall will help.
Some complaints appear limited to those trying to use one of Google's mobile sites while others are saying that the browser is completely useless. Those who have called Sprint were told to do a Factory reset , and while that might get the browser going, it shouldn't be the first thing listed under the troubleshooting scripts at the call center overseas. In other words, the problem looks to be with the network, not the phone which means that if you don't want to erase everything-and let's face it, who would-your best bet might be to be patient and see what Sprint comes up with before wiping your phone's memory.
One thing that we have tried on an Android before which has been successful is to go to settings and then head to networks and out your phone into Airplane mode for just a few seconds, and then revert back to your carrier's network. Give that a shot before you even consider a Factory reset. Remember, no Doctor in his/her right mind would perform a lobotomy when 3 stitches could do the trick.
source:
IntoMobile
Recommended Stories