Dallas Fort Worth Airport will have free Wi-Fi for all thanks to AT&T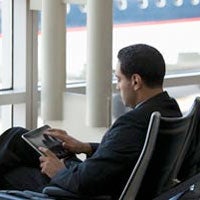 The next time you and all of your mobile devices trek through Dallas/Fort Worth (DFW) International Airport, you won't have to worry about using up your data quota or paying Wi-Fi access fees. The DFW Board of Directors have approved a deal that will allow AT&T to provide free Wi-Fi access at all five terminals to all travelers.
Slated to launch in September, the service will require customers to view a 30-second advertisement for every 40 minutes of usage. It will cover more than 6 million square feet of space and be accessible by the over 57 million travelers that pass through DFW every year.
In addition to offering free service, AT&T plans on upgrading the current network by increasing speeds and covering an even wider area that will eventually encompass parking garages and gate accessible areas.
"The deal to provide AT&T Wi-Fi access across DFW Airport is a tremendous leap forward for our passengers in terms of speed and coverage area, and it answers one of our most frequently-requested customer enhancements," said Jeff Fegan, CEO of DFW International Airport. "We are very pleased to join with AT&T, our Dallas-based neighbor, to provide world-class and complimentary Wi-Fi service for everyone who visits DFW."
Overall, a 30-second ad for 40 minutes of service seems very, very reasonable. What do you think? Is this a fair advertisement trade off for free service? Would you like to see service like this offered in more places?
source:
PRNewsWire