DROID Pro spotted on Verizon computer system along with White DROID 2 and more
17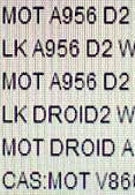 A recently leaked Verizon road map called our attention to a new handset called the Motorola DROID Pro. Now, the device has found its way onto Big Red's computer system and the specs leaked out by a source at BGR basically confirm what we originally told you. The "Pro" version of the DROID will be equipped with a 4 inch display. This, as we noted when we previously
reported
on the phone, is right in the middle of the 4.3 inch screen of the DROID X and the 3.7 inch display of the DROID 2. The phone will have a model number of A957 and will feature a 1.3GHz processor and a dual GSM/CDMA radio when it is expected to be launched this November.
As if the R2-D2 version of the just launched DROID 2 isn't enough of a change, Motorola and Verizon plan on offering a version of the phone designed for businessmen. Known for now as the A956, the phone will also have a dual GSM/CDMA radio under the hood for global roaming. Besides being available in white, this particular variant of the DROID 2 will also be available in Henry Ford's favorite color-Black. The pinstriped set might not have too long to wait for the release of this model.
Finally, a device designated for now as the MZ600 and containing a GSM/CDMA radio, could be either be a Motorola produced tablet, or a slab form factor Android World Edition phone. If it is the latter, you can expect to see Android 2.2 pre-installed at launch.
Motorola DROID Pro Preliminary Specifications
source:
BGR