DROID DOES Android 2.1 on video
This article contains unofficial information.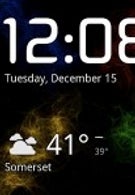 2.1
to the Motorola DROID; after all, the DROID DOES everything and with the Nexus One powered by the 2.1 version of Google's open source OS, well, why not give it a whirl on Verizon's flagship device. Of course, in exchange for being the first on your block with a DROID on Android 2.1, you do lose some functionality like the Drooooiiiiiid sound when you start up the device. And because 2.1 is not yet supported by the DROID, well, the whole thing is full of bugs at the moment. Porting over Android 2.1 to your handset is something that has plenty of risks involved. You can void your warranty, brick your phone or even take 2 years off the Mayan calendar. Check out the sourcelink for all of the gruesome warnings.
Motorola DROID Specifications
|
Review
HTC Nexus One Preliminary Specifications
source:
Sholes.info
via
EngadgetMobile
,
MobileCrunch