DOJ sends second request for Google/Motorola info
7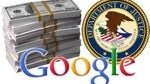 Yesterday on its Public Policy Blog, Google announced that the Department of Justice has sent a second request to review more of the details of the proposed acquisition of Motorola Mobility. Although this request is fairly routine, it does show that the deal isn't likely to be closed any time soon.
It's really no surprise that the DOJ wants to check into the deal more. The government has an obligation to act when a deal this big is proposed, and especially when the company pulling the trigger is Google. Google has come under a lot of government scrutiny recently with the extended DOJ investigation into the ITA deal, as well as the recent hearings on possible
anti-trust grounds
over Google's handling of search. However, Google is still very confident that the deal for Motorola will go through, stating that it "is a pro-competitive transaction that is good for Motorola Mobility, good for consumers, and good for [Google's] partners."
This renewed interest by the DOJ will likely stir up more conspiracy theories in the tech blogosphere about how Google is planning to destroy the Android ecosystem with Motorola, but really it's just standard procedure when Google plans to pay $12.5 billion for an acquisition.