DJI introduces new Osmo Mobile 2 gimbal for phones with 3x more battery life
4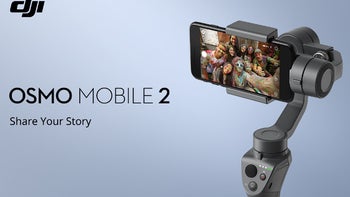 DJI has just introduced the brand new Osmo Mobile 2 gimbal for smartphones, the successor to one of the most popular phone stabilizers out there.
The Osmo Mobile 2 features a 15-hour battery life, nearly triple the battery life of the original, and it has a much lower price: $130 versus the $300 price of the original, a considerable, $170 price difference.
Triple the battery life, less than half the price
The new gimbal also supports portrait orientation for your smartphone, while the original only allowed placing your phone horizontally, but not vertically.
Features
The Osmo Mobile 2 will come with some of DJI's signature features on board. It has the ActiveTrack feature available, allowing you to point an object and have the gimbal automatically track that object as it moves around.
The one compromise that allows bringing the price of the gimbal down is the material used to make the gadget: it's plastic, while the original was made of solid metal. For all else, the new DJI Osmo Mobile 2 has the same look and feel as the original. It features a joystick right where your thumb resides for smooth motion and it allows for smooth, gradual zooming. Neatly, there is a tripod mount at the bottom of the gadget. The gimbal also has a smart motionlapse feature that makes it possible to record moving timelapses and hyperlapses, and it can also shoot panoramas.
One change is that the battery is no longer removable, but the extended battery life does make up for that. Interestingly, the gimbal also doubles as an external battery pack that you can use to charge your phone, if you are running low on battery.
Finally, you can also remotely control your gimbal-mounted phone - be it iPhone or Android - via DJI's excellent DJI Go app.
Price and availability
You will be able to order the DJI Osmo Mobile 2 starting January 23rd exclusively over at Apple.com.
Later on, in February, you will be able to buy the new Osmo Mobile 2 from DJI's official stores and other retailers.