CyanogenMod hit 2 million unique installs, 4x jump in less than a year
13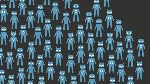 It's no secret that CyanogenMod is by far the most popular custom ROM available for Android, and its user base has made a pretty big jump since the last numbers check in July of last year. At the time, there were just
over 500,000 unique installs
of the system. The new numbers are out and CyanogenMod has made quite the leap.
According to the new numbers, there are just over 2 million unique installs of various CyanogenMod ROMs. Official installs make up just over 1 million of those installs, with unofficial installs at just under 1 million. This is pretty interesting because it means the unofficial installs are growing at a faster rate than the official. Last time around, unofficial installs made up only about 30% of the total number, and now it's just under 50%.
Overall, CyanogenMod installs are up as well. Last time, it was getting about 4k new installs a day. Since then it has averaged 8.5k new installs a day, and in the last 24 hours it has had over 11k new installs. Not bad for a custom ROM, but of course 2 million still means it's less than 1% of the entire Android ecosystem, which means there are more Cupcake and Donut devices combined than there are CyanogenMod installs.