Cut the Rope: Magic now available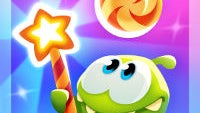 Developer ZeptoLab knows that its Cut the Rope series of games has done well, and aside from two games that deviated from the star OmNom, ZeptoLab appears content to keep trolling that well in its best Nintendo impersonation. Luckily, for the most part, each Cut the Rope game has been quite good, and Cut the Rope: Magic looks to continue the trend.
As always, the basic premise remains the same: OmNom wants to eat candy and for no discernable reason you also need to collect stars (Nintendo impersonation, after all), and there will be a series of physics-based puzzles to accomplish those two goals. This time around though, the world is Magic, so OmNom can transform in various ways to alter the puzzles a bit - a bird that float a bit, a mini version of OmNom to get through small openings, a mouse that will follow cheese, a fish that can swim (OmNom only floats), or a ghost so items will pass through OmNom.
Additionally, there is an evil magician to defeat, by which we mean make it so OmNom eats the candy instead of the magician. (Story has never been terribly important in the game.) There are the usual cartoons that unlock as you play through, as well.
There are also a number of in-app purchase options, but unlike the awful implementation in
Cut the Rope 2
, most of these can be avoided. As you play, you gather crystals, which can be used to unlock content or continue playing when OmNom is too full to continue, but there is also a nice option to "watch" a video ad instead of paying to continue. There are also level hints that you can buy, but we're assuming you all have access to YouTube, so that's completely unnecessary.
Cut the Rope: Magic will cost you 99 cents on iOS, but is a free, ad-supported download on Android. Although, if you want to get rid of the ads, you can opt for a 99 cent in-app purchase.