Crystal encrusted Samsung Galaxy S III Swarovski Edition by Amosu Couture
12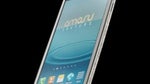 Since the
Samsung Galaxy S III
is a smartphone almost too hot to handle, covering it in ice might not be such a bad idea. Metaphorically speaking, of course. That is exactly what the designers at Amosu Couture have crafted – a tailor-made Samsung Galaxy S III that sparkles with 500 Swarovski gems inlaid in its bezel while 16 additional crystals are embedded in its home button.
But as all fine things in life, this custom Galaxy S III does not come cheap. Ordering one in either white or blue will set you back £2099.00, which is over $3400, or about 5 times the handset's original, bling-less retail cost. That is a hefty price indeed, despite the fact that you get a deluxe Amosu Couture calf leather case as a gift. Alternatively, should you be a Galaxy S III owner already, Amosu is willing to pimp it out for "just" £1399 ($2270).
But if the steep pricing isn't much of a problem, feel free to check this luxury Android smartphone at Amosu's web site, or explore the other customized handsets that the brand has to offer. As for us, we'd stick to our "poor man's" stock Galaxy S III for now, thank you very much.