Cringing video shows Nokia Lumia 900 being used as a hammer
28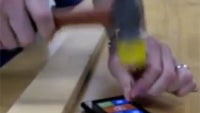 Anyone who has had the misfortunate of witnessing a smartphone glass casualty knows that skin crawling sound of hard earned money going down the drain and the subsequent aggravation that will take place replacing the device.
After viewing a video of the Sonim, dubbed the "World's Toughest Phone," being used as a hammer, two engineers and a failure analysis specialist wagered a friendly bet over whether or not the Nokia Lumia 900 could pass this "test" too. Failure Analysis Specialist Mike Wellborn said there was no way the Lumia 900 could be used in this matter, while engineers Mike Myers and Chris Ruble felt otherwise and created this video to put the Lumia 900 to the test.
First they hammer a nail on the screen. Then, to kick it up a notch, they hammer a nail into a piece of wood using the glass side. While it is a little cringing to watch as you expect the glass to shatter, impressively the Nokia Lumia 900 stands up to the test.
Obviously, if you feel to compelled to conduct your own test, your warranty will be void, so it's probably better to just trust the video.