Creepy: Moscow outfitting metro stations with SIM card snooping machines
6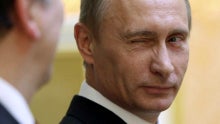 If you think the
NSA is spying on your phone with its data aggregation
, wait to see what the Russian police has come up with for the Moscow subway stations.
In today's edition of the popular "Izvestia" paper, the head of Moscow Metro Police, Andrei Mokhov, informs us that certain contraptions are about to be installed at stations, that can read the info on your SIM card from about 20 feet or less.
The pretext is that this will allow the police to track phones reported as stolen, when coupled with the time stamp of security cameras. The system automatically alerts the authorities when a lost or stolen SIM number is located nearby.
The system will be using a loophole in the privacy law, which doesn't allow tracking individual people willy-nilly, but doesn't forbid anything about someone else's property, such as carrier SIM cards, either. "
According to experts, the devices can be used more widely to follow all passengers without exception
," writes the newspaper, which is the real troubling issue here.
Recommended Stories