Vitamin Water will pay $100,000 to one person who can go without a smartphone for a full year
23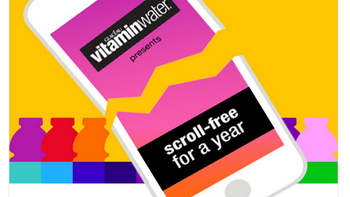 Would you give up your smartphone for 365 days in exchange for $100,000?
Vitamin Water is willing to take that bet
. The Coca-Cola subsidiary produces vitamin infused water and with a rich parent like Coke, the company can certainly afford seeding this contest. To enter, you need to send a photo to the company's Twitter or Instagram page (@vitaminwater) explaining why you need a break from your smartphone, and what you would do with all that free time you'll have. Vitamin Water says to "go wild, be out there, and wow us." You must include the hashtags #nophoneforayear and #contest.
Vitamin Water will choose one participant who will have to give up his or her smartphone in exchange for a old fashioned cell phone that only makes and takes calls. If you are selected and can go 365 days without even holding your smartphone even once, you'll be $100,000 richer. Would you be able to make it without your connected handset for a year?
You have from now until Tuesday, January 8, 2019 at 11:59 p.m. ET, to submit an entry. Everyone is allowed to enter as many as four times. And don't even think about cheating. Vitamin Water plans on using lie detector tests to make sure that the lone contestant isn't sneaking a peak at Twitter or Instagram on the sly.

Recommended Stories