Could Apple lose the trademark exclusivity to the term iPad?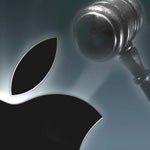 It's been less than 3 years since we became familiar with the term iPad. We first heard it introduced by Steve Jobs when he famously announced the introduction of the original iPad. Immediately on its successful release, there were claims made around the world by various companies, all claiming Apple violated trademark rights by using the now famous name. While most of the claims have been resolved, Proview, a Chinese firm, still is in active legal dispute with Apple, contending that it owned the trademark in China prior to Apple using the name.
Has the term iPad become synonymous with tablet, or do consumers still think of Apple when they hear the name? With such a large selection of tablets to chose from now, Apple must maintain that it's their brand name, and that iPad remains synonymous with its tablet and only its tablet. In the past companies like Xerox and Kleenex have been in similar situations where they've had to be careful that the company and branding are specific to their respective products in order for the term to remain a legally protected trademark.
Professor Jessica Litman, of Michigan Law School says Apple has done a pretty good job at protecting its trademarks from becoming generic terms in the past. She says Apple "is able to skate pretty close to the generics line while making it very clear the name is a trademark of the Apple version of this general category."
It's hard to imagine looking at any tablet and calling it an iPad, but there's a growing consumer base new to the tablet market, and they hear the terms iPhone and iTablet, and iAnything and just assume it's a techie term for the later half of the product name. Apple in itself has put a lot of emphasis on the word Apple, so it's likely that if it were to lose the exclusivity it would fair just fine. After all, who is going to want to buy a "Samsung Galaxy iPad?"
source:
SlashGear