What Corning is testing will eventually stop one of the major drawbacks of first-gen folding phones
6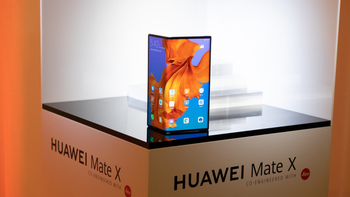 It is easy to forget that the displays that will be used on the first generation of foldable phones are plastic, not glass. Users might be reminded of this fact when they start to notice scratches on their phones' screens. Plastic will also leave creases over time, creating an unslightly blemish on the screen of an expensive device. While these negatives both apply to the
Samsung Galaxy Fold
and the
Huawei Mate X
, the latter folds outward which leaves the foldable display at risk of getting scratched. The Galaxy Fold, on the other hand, folds inward to protect the internal screen. Still, the display on any first-gen foldable phone can suffer from scratches and creases.
According to Wired
, Corning is working on a solution that will make a foldable phone owner feel better about the display on his handset. The company is known for its Gorilla Glass, which is used on screens to protect them from scratches and small drops; now Corning says that it is working on foldable glass. Yes, glass can bend without shattering, but not to the extent needed for a foldable smartphone.
The folding glass that Corning is testing is just .1 millimeters thick and bends to a radius of 5 millimeters. The problem, says Corning, is making glass that can fold like that and be tough enough to prevent damage. The solution, as the company sees it, is to combine the knowledge it obtained from developing both Gorilla Glass and Willow Glass. The latter can roll up like paper, and the former is thin, but tough. Willow Glass alone can't be used on phones because it is dipped in a salt solution during the manufacturing process. Salt can destroy the transistors used inside a handset.
"Glass today, the current choices out there, they're not optimal. In a glass solution, you're really challenging the laws of physics, in that to get a very tight bend radius you want to go thinner and thinner, but you also have to be able to survive a drop event and resist damage."-John Bayne, SVP, Gorilla Glass, Corning
John Bayne, the head of Corning's Gorilla Glass unit, is hopeful that the company will have its foldable glass ready by the time foldable phones become more than just an expensive curiosity. That could mean that the users of these devices will have to put up with plastic screens until the third or fourth generation models are released.
It is possible that Corning could have foldable glass ready earlier than expected. Remember, Gorilla Glass was invented when Apple asked Corning to develop a thin, but tough glass for the original
Apple iPhone
. With Apple expected to be among the last major phone manufacturers to release a foldable phone late next year, we wouldn't be surprised to see the first folding iPhone sport Corning's new glass.