Corning executive recites the downside to the use of sapphire glass
49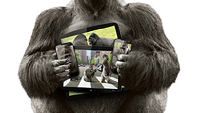 You just can't monkey around with Corning. The company behind the Gorilla Glass screens that have been used for years to prevent scratches and other damage on mobile touchscreen devices, might soon have competition from sapphire glass. Rumors persist that the next-gen
Apple iPhone 6
will be employing the second hardest material on the planet after diamonds. The speculation received a strong bump after Canonical executive Mark Shuttleworth recently
accused Apple of cornering the market on 4.5 inch sapphire glass panels
.
On Tuesday, at the Morgan Stanley Technology, Media & Telecom Conference, Corning Glass executive Tony Tripeny mentioned a list of what could be the downside of using sapphire glass on a smartphone screen. The executive said that sapphire is 10 times more expensive than Gorilla Glass and weighs 1.6 times as much as Corning's product. Tripeny added that the sapphire glass requires 100 times the energy to light up the screen than a Gorilla Glass display needs. He also adds that sapphire glass is environmentally unfriendly.
"When we look at it, we see a lot of disadvantages of Sapphire versus Gorilla Glass. It's about 10 times more expensive. It's about 1.6 times heavier. It's environmentally unfriendly. It takes about 100 times more energy to generate a Sapphire crystal than it does glass. It transmits less light which...means either dimmer devices or shorter battery life. It continues to break."
-Tony Tripeny, Corning
The Corning executive said that using sapphire means dimmer screens or accepting less battery life in devices that use it. And while Tripeny did admit that sapphire glass is a very hard material, he claims that testing has shown that Gorilla Glass can withstand 2.5 times the pressure. It also takes 4000 times longer to form sapphire than Gorilla Glass.
So does it sound like Corning is obsessed with the possible competition? Heck, they even put up a website that debates the issue, which you can find at the sourcelink.
source:
SeekingAlpha
,
Corning
via
AppleInsider