Corning Gorilla Glass SR+ is a tough, scratch-resistant material for smartwatches and wearables
14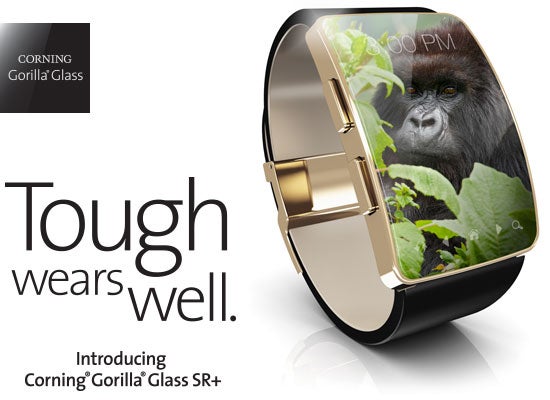 Corning, maker of the famous Gorilla Glass that protects the screens of most smartphones currently on the market, today announced Gorilla Glass SR+. Presented as a "groundbreaking innovation", Gorilla Glass SR+ is a new glass composite designed for wearable devices.
According to Corning, its new glass delivers "superior scratch resistance approaching that of alternative luxury cover materials" - we assume that the company is talking about sapphire here. Corning further notes that Gorilla Glass SR+ will offer up to 70% better damage resistance against impacts and about 25% better surface reflection than the aforementioned alternative materials. All in all, wearables seem to have a bright future when it comes to protection against scratches and drops.
Corning says that Gorilla Glass SR+ is now commercially available, with smartwatches and wearables featuring it expected to be launched sometime later this year. It will be interesting to see exactly what devices are going to use the new Gorilla Glass. Maybe the
Apple Watch 2
?
Gorilla Glass SR+ is Corning's second new glass of 2016, as it's announced not long after
Gorilla Glass 5
, which is already employed on the
Samsung Galaxy Note 7
.
Update
: As you can see in the slideshow below, Corning is indeed presenting Gorilla Glass SR+ as a worthy alternative to sapphire. Color us intrigued.