Cook sees iPad revenue rebounding this year; more cross platform products coming
27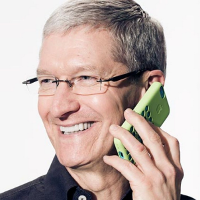 With Apple iPad sales declining 24.8% year-over-year in the fourth quarter, is there hope for a turnaround in the sector? There is, if you listen to Apple CEO Tim Cook. The executive says that Apple iPad sales will show growth by the end of this year. Sales of the device have been hurt by the release of the 5.5-inch
Apple iPhone 6 Plus
and
Apple iPhone 6s Plus
. In addition, the lack of a strong upgrade cycle means that tablets aren't replaced every two-years like many smartphones are.
Sales growth for the device could come from this year's eventual release of the Apple iPad Air 3. Based on
the leaked images of a case for the device
, the iPad Air 3 is going to have many of the features found on the 12.9-inch
Apple iPad Pro
, but in a smaller, more affordable package. The iPad Air 3 is expected to have a quad-speaker system, support the magnet based Smart Connector to sync with accessories like the Smart Keyboard, and work with the Apple Pencil. The Apple iPad Air 3 should also feature the Apple A9X chipset under the hood. The tablet is
expected to be unveiled next month at a Apple media event
.
Cook also spoke at an Apple town hall meeting, and according to those who attended the event, he said that Apple could release more cross-platform apps that would work on both iOS and Android. Apple
has a version of the Apple Music app for Android users
. Offering iTunes music, book and video sales to Android users could help Apple bring in a ton of revenue considering that Android is the most widely employed smartphone operating system in the world.
Besides discussing the iPad, Cook noted that
the 74.8 million iPhones Apple sold in the fourth quarter would cover the combined populations of New York, London, Beijing, and Shanghai
. And lastly, the executive said that the Apple Watch was not not only one of the "hottest" holiday gifts, he added that the smartwatch sold more units during its first holiday quarter than the number of iPhones sold during the handset's first holiday quarter in 2007.
source:
9to5Mac
,
AppleInsider