Control your home from your smartphone on the cheap with Iris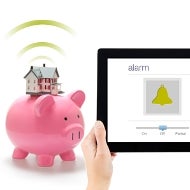 Lowe's has teamed up with the British home automation company Alert Me to stock affordable and easy to install system called Iris for controlling your home remotely.
If you read our
home automation article
, competing standards and prohibitively expensive gear have prevented the technology from being adopted en masse. In the last year or so, however, the elements to control your home from afar came down in price, and the appearance of Iris at Lowe's comes as a further proof that time is ripe for an exploding demand in the field.
There are three Iris kits to choose from. The
Iris Safe & Secure package will run you $179, and, as you can guess from its title, in there are motion and contact sensors for your doors, windows and closets, as well as an Iris Hub control station, and a keypad. The Iris Comfort & Control kit has the same price, but leans on the energy efficiency side, offering a remote-controlled thermostat, as well as smart plugs for managing things like lights from a distance. Both offerings are combined in the Iris Smart Kit, which costs $299.