Consumer version of Google Glass "probably a year-ish away" according to Schmidt
11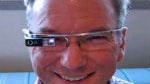 The last time there was any mention of a release window for the consumer version of Google Glass, the sense was that Google hoped to be able to release the device in time for
the holidays
this year. But, now it sounds like the window has shifted back to Q1/Q2 of 2014, because Google's Eric Schmidt is now saying that the consumer version of Glass is "probably a year-ish away".
The comments came as part of an interview that Schmidt did with BBC Radio 4's "World at One". He also talked about his new book, Google's tax policy in the UK, privacy, and other topics. Schmidt didn't linger on the topic of Glass long, but did mention that Google will be taking into account the thoughts of the thousands of developers that will be using Glass in the next few months, and make changes to the device before releasing a consumer version.
If you want to listen to the full interview, it begins at 27:45 in the source link, and the statement about Glass comes at 32:30 in the show.
Recommended Stories