Consumer Reports gives thumbs down to Verizon Apple iPhone 4
17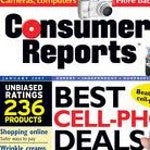 Remember when Consumer Reports failed to recommend the Apple iPhone 4 shortly after its launch on AT&T? As we
reported
, the impartial testing organization refused to rate the device because of the infamous "Antennagate" problems that was taking signal strength down on the handset when it was held in a certain manner called "the death grip".
The new CDMA version of the iPhone 4 has a different antenna configuration due to the CDMA radio. Still, Consumer Reports has found that the Verizon version of the phone still suffers from dropped signal bars and poor reception. Paul Reynolds of Consumer Reports wrote on the non-profit organization's blog and said, "The Verizon iPhone 4 closely resembles the original AT&T iPhone 4 in many positive respects, including offering great multimedia functionality, a sharp screen, and the best MP3 player we've seen on a phone." Reynolds added, "Unfortunately, it also shares with its sibling the possibility of compromised performance in low-signal conditions when used without a bumper or case."
Ironically, Verizon's Chief Technical Officer David Small had told CNN at the time of the original Consumer Reports story that the antenna problems on the AT&T iPhone 4 would never have passed Verizon's testing. Small said, "We have a very stringent design criteria for our antennas. You won't see any antenna issues with this device."
Even though Consumer Reports will not recommend the Apple iPhone 4, it did give the handset a score of "Excellent" for its display, browsing, navigation, battery life and multimedia. Phoning and messaging were rated "Very Good" and voice quality was given a "Good" ranking.
source:
CNN
via
AppleInsider