Constantly having beeps at the end of calls? Look at your Snapchat permissions
5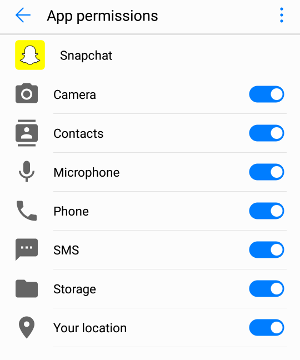 Snapchat rose to fame by scoring a generous initial public offering this year,
making its founders billionaires
thanks to Wall Street eager to participate in the next big IM thingy, and forcing them to marry Victoria's Secret supermodels. The
Snapchat app
, however, is another beer, as it has been plagued by memory and power consumption leakages from the onset (like most messaging apps), as well as some recent boot crash issues.
The latest problem stemming from the Snapchat app has been more obscure to find, but there is a whole Reddit thread dedicated to the weird case of loud beeping noise through the speaker at the end of each call that appears out of nowhere for no apparent reason. Well, code diggers have traced the problem to the Snapchat app, as you might have already guessed, and they have been able to isolate the culprit - the app's phone permissions. Here's how to disable those, and put an end to the strange beeps when you finish your conversations:
1. Go to Settings > Apps > Snapchat > Permissions;
2. Look for the "Phone" entry, and turn the switch off to disable that permission, this should remedy the beepers if you encounter that weird issue during calls.
As to why this happens, remains a mystery, as disabling the Phone permission fixes the beeps, but the error you see highlighted below appears regardless of whether the switch is on or off, so we hope that the next Snap update plugs the issue altogether for good.